When the COVID-19 pandemic struck corporate America in the first quarter of 2020, companies scrambled to restructure how their employees did their jobs. Daily commutes to in-person workplaces were out and home offices were in. Meetings in private conference rooms were out and Zoom calls were in. Casual conversations with coworkers in the break room or while running to grab mid-morning coffee were out and…well, there wasn't a good substitute for that aspect of office culture. 
While remote or hybrid working arrangements can lead to increased productivity and lower stress, many companies with a remote or hybrid workforce have seen their company cultures deteriorate, as well. According to a study from INSEAD, one of the world's largest business schools, 45% of professionals said camaraderie and teamwork had declined since the start of the pandemic. 
When the employees at Asset Panda, a well-known asset management company, transitioned to working remotely as a result of the pandemic, they saw firsthand how a flourishing workplace culture can suffer without the benefit of shared physical spaces. With the help of MindGoal, they have been able to make up lost ground—and then some—on this front, creating a virtual company culture that fosters employee engagement, mental wellness, and job satisfaction. 
Before MindGoal
When Asset Panda's workforce of approximately 60 employees went 100% remote, employees lost many of the traditional rituals that helped them connect with one another. Before the company implemented MindGoal as a culture-building solution, there were several areas in which Asset Panda's culture suffered. 
"We had a channel to talk in Slack called Internal Pandas, but nobody ever used it," remembers Rachel Layton, an eLearning Designer & Trainer who joined Asset Panda in October of 2021, many months after the company adopted a remote working structure. 
Not only were employees not engaging with the company, they weren't engaging with each other. 
"I found it difficult to know who was on which team," says Rachel. "You felt like you were alone, like you couldn't reach out to people."
This feeling of isolation was not uncommon; many employees have since expressed to her that they were uncomfortable connecting with other pandas. 
While birthdays and panda-versaries, the anniversary of their employment at Asset Panda, were announced in the Slack HR channel, employees were not given many opportunities to actively engage on topics not strictly related to their jobs. This negatively impacted employees' satisfaction and well-being, resulting in a troubling turnover rate of 65%. For members of leadership, the culture crisis at Asset Panda presented them with some new challenges. 
"As a leader, you constantly want to have a gauge on how employees are feeling, and how they're performing," says Rex Kurzius, Founder and CEO of Asset Panda. "When your company is remote, some things—like employee satisfaction—are really hard to see."
At the core of this weak culture was a lack of collective buy-in of company values. Without the consistent practicing of values to unify employees, it's difficult to form a sustainable culture. At Asset Panda, the company's values may have been mentioned at monthly town hall meetings and tied into some eLearning efforts, but overall, the values were not being put into action by most employees. 
Building Community With MindGoal
In November of 2021, soon after joining the company, Rachel took on the responsibility of leading Asset Panda's culture team, which involved creating and leading team-building initiatives. It was at this time that Sophie Kurzius, the founder of MindGoal, connected with Rachel with an offer to collaborate on some ideas for cultivating a stronger employee culture. 
Sophie had seen firsthand how Asset Panda struggled when the pandemic caused everyone to work remote. As someone who is passionate about mental health advocacy, she wanted to do something to help remote employees who felt disconnected from their coworkers and their work in general. 
"I wanted to develop a solution that took the guesswork out of company culture-building," explains Sophie. 
When Rex first heard about Sophie's concept for MindGoal, he was intrigued. 
"We've already seen these same ideas succeed when evaluating client satisfaction—using them for employee satisfaction is not a big leap," explains Rex. "In the same way we figure out which clients are at risk of churning so we can rectify the situation, MindGoal helps us do the same thing with our employees."
Building a Strong Foundation
For every MindGoal client, Sophie believes a strong company culture is built upon a solid foundation of widely held values. More than simply being ideals a company lists on a poster or mentions at quarterly meetings, company values should be treated as guiding principles that unify employees and help them work better together as a team. With that in mind, Sophie wanted all culture-building efforts moving forward to reflect Asset Panda's values:
We are

entrepreneurial

, always willing to try out new things and take risks.

We have a

passion

for the work we do and the change it can help bring in the world.

We insist on

dependability

from our products and our employees.

We make

teamwork

central to everything we do.

We strive for

honesty

with our employees and clients alike.

We rely on

intelligence

to guide our business decisions.

We encourage

creativity

in our problem-solving, our work environment, and the way we present ourselves.

We believe that

accountability

is vital, and take responsibility for our actions.

We rely on

open communication

to welcome new ideas and keep everyone on the same page.
"Using our values as a guide," says Rex, "Sophie found ways to make being an employee a more pleasurable experience and improve the health of each employee."
Refocusing Communications
In the spirit of promoting a culture of teamwork and open communication, one of the first steps Sophie recommended was to reimagine the way employees communicated on Slack, the platform Asset Panda uses for internal messaging among employees. All culture-related Slack channels (Internal Pandas, HR, etc.) were consolidated into a single MindGoal channel. This meant that moving forward, everything related to employee engagement and culture-building—shoutouts, competitions, tagging, news—would now happen in one place. 
As Sophie explains, "Tying team, culture, and company relationships into one channel helps to break down the barriers remote work has built up around employees and teams."
Rex agrees, saying "MindGoal brought conversation pieces we never would have had, allowing us to interact with people we never would have interacted with at the company."
To boost engagement in the newly formed channel, Sophie also collaborated with Rachel to create the concept of "Secret Pandas". These are employees chosen from different teams in the company to post in the channel and encourage organic engagement. Nobody—other than Sophie, Rachel, and the Secret Pandas themselves—knew who had been selected for this top secret mission and who was just posting in the channel on their own. 
By centralizing culture-related communications and introducing a strategy for activating this space, Asset Panda has seen a 27% increase in the number of employees engaging on average per month, and an increase in average engagements in channels from 3 to 88. 
"After implementing MindGoal, our usage of Slack for culture-related interactions increased at Asset Panda," says Rachel. 
Secret Pandas began on April 1st of 2022, and by July 1st, they discontinued the initiative because they didn't need to do it anymore. In relatively short order, employees acclimated to the MindGoal channel as being a sort of virtual water cooler, allowing them to learn about company news and upcoming events, chat with other employees, and participate in activities. 
"From a culture standpoint," says Rachel, "being able to pull every employee as much as possible into one channel and provide ways for them to communicate has been incredibly helpful."
Creating Opportunities to Engage
Of course on its own, a healthy interaction rate on Slack cannot sustain a culture for long. Sophie recognized they needed to facilitate culture-building in a more active, intentional way. With that in mind, she worked with Rachel to begin planning and coordinating various events, challenges, and other activities throughout the year that aligned with Asset Panda's values. These events are meant to help employees engage with each other outside of a work environment and form stronger bonds. 
"When we started adding in activities and events, that's when employees really started to respond," says Rachel. 
MindGoal is responsible for hosting one big event every quarter for a total of four big events a year. For the other eight months in which a large event is not happening, MindGoal also organizes one small event. Large events could be activities such as a mixology class, trivia games, or Drawful. Smaller events are typically month-long challenges and competitions such as a Wordle tournament or a steps challenge. 
"While we're trying to tap into employees' competitive nature," Sophie explains, "the goal for us has been finding things they like and want to participate in that tie into Asset Panda's mission and values," says Sophie. 
According to Asset Panda's employees, MindGoal has succeeded in that regard. 100% of pandas agree that the team events MindGoal recommends and coordinates exemplify the Asset Panda mission and vision. This is great news for the company, because it means employees are getting the opportunity to practice the values they preach and learn how to better integrate them into their everyday activities. 
When the first large event, Space Defenders, took place in late January of 2022, only 11 pandas (20%) showed up. However, attendance has been steadily increasing ever since. By the time the next large event took place in April, 41 pandas (83%) attended the game show extravaganza. For the next event in July, a desktop gardening class, even more pandas participated.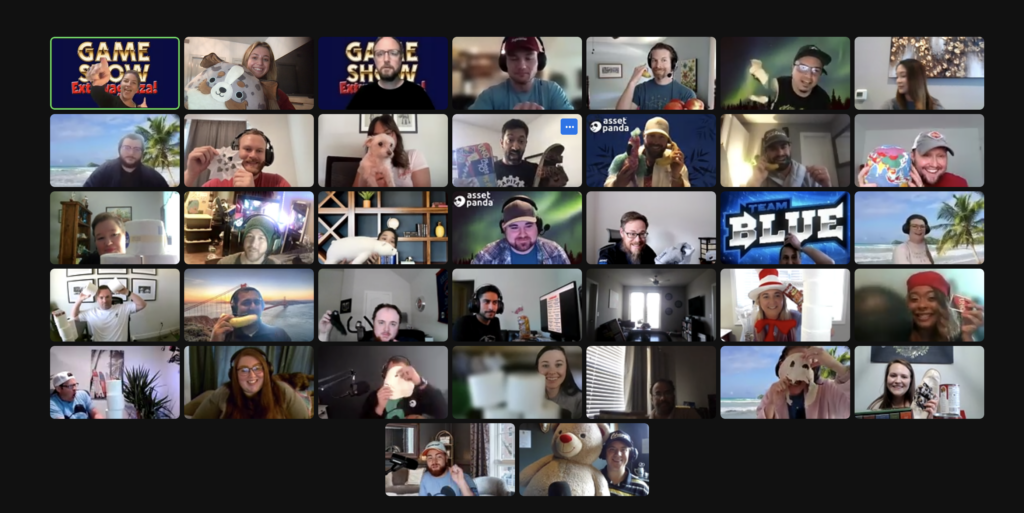 Putting Employees at the Heart of Culture-Building
Despite what Field of Dreams told us, just because you build something does not mean they will come. For employees to actively participate in a company's culture, it has to be the kind of culture they actually want. That's why one of MindGoal's core practices has been involving employees in discussions around culture as much as possible. 
"By surveying employees as often as we can," Sophie explains, "we are able to directly pinpoint where our employees are struggling, and how we can help them."
The surveys they make for Asset Panda are usually short, about three questions or less, and sent out bi-weekly. They've found that by doing more frequent, shorter surveys, employees are more likely to respond than if they made the questionnaires longer and sent them less often. After each live event, they also ask any pandas who attended to complete a short feedback survey, which helps MindGoal improve the quality of future events and tailor them to Asset Panda's needs. 
"MindGoal has helped us create a more meaningful experience for employees, and our company numbers have radically improved because of it," states Rex.
In planning for upcoming events and challenges, MindGoal also gives a lot of consideration to what employees are likely to enjoy the most. They sent out an interest survey with an array of possible options to gauge enthusiasm for different activities. By doing this as early as possible, they've been able to plan events well into next year, giving MindGoal ample time to organize supplies, select prizes, and inform employees well in advance. 
A New and Improved Asset Panda
With the implementation of MindGoal, Asset Panda's culture has done a complete 180. Employees have been able to get to know each other as more than just coworkers; they get to see their families, learn what they're passionate about, and celebrate both professional and personal accomplishments together. According to Asset Panda employees, 90% said they feel comfortable interacting with other pandas, especially pandas outside of their teams, since they started attending MindGoal's team-building events. 
"Now, employees don't feel completely alone," says Rachel. 
Rex continues, "MindGoal has made it okay to reach out to someone for a mental health break and ask others if they're doing okay. It's now part of our culture to recognize people, celebrate people, and show that they are loved."
This growing sense of camaraderie and support between employees has improved mental well-being and job satisfaction across the board. Today, turnover at Asset Panda is now 8.4%—that's an 87% decrease since MindGoal was implemented. Employees now feel just as connected to the company as they did when they worked out of a physical office. 
"When company culture is alive and well," explains Rachel, "it helps keep your mental spirit good when you're working remotely."
About MindGoal
MindGoal was created because we noticed a growing issue in the workforce—companies were making the transition to remote and hybrid work, but they didn't have the tools they needed to support their newly remote and hybrid employees. In virtual workplaces across the nation, communication was lacking, morale was low, and the sense of community among employees had all but disappeared. So, we developed a comprehensive set of resources designed to take the guesswork out of culture building and help these organizations regain what was lost. 
With a custom solution from MindGoal, companies of all sizes can cultivate a positive culture, boost engagement, and encourage a sense of community, allowing both the company and its employees to truly reap the benefits of remote work. 
"Our work with MindGoal will never fully be done, you get insights and evolve; it's real-time and happening continuously throughout the organization," notes Rex.